About Trackaroo:
There are lots of tracking apps in the app store. You can track your workout time, you can track feeding your baby or track your water intake. Trackaroo is all in one!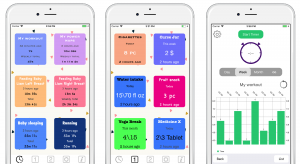 So why Trackaroo?
Trackaroo is an unique app which allows you to track pretty much anything. You don't need 5 different apps on your phone, Also you can track total different things simultaneously.
A unique app!
This is the only app available which has the timer tracking feature and the counting tracking feature.
It's total freedom!
You decide what to track, anything goes. And everything in this app is a 100% customisable, so you even decide the looks of the app.
No annoying advertisements
You buy it once, you'll get a lifetime of free updates, and a 100% advertisement free app!
Can't wait to try? Buy it at the iOS app store
The link will soon be available.